Certificate

of Soul Regression Therapy
Past Life Regression and Between Lives Regression Training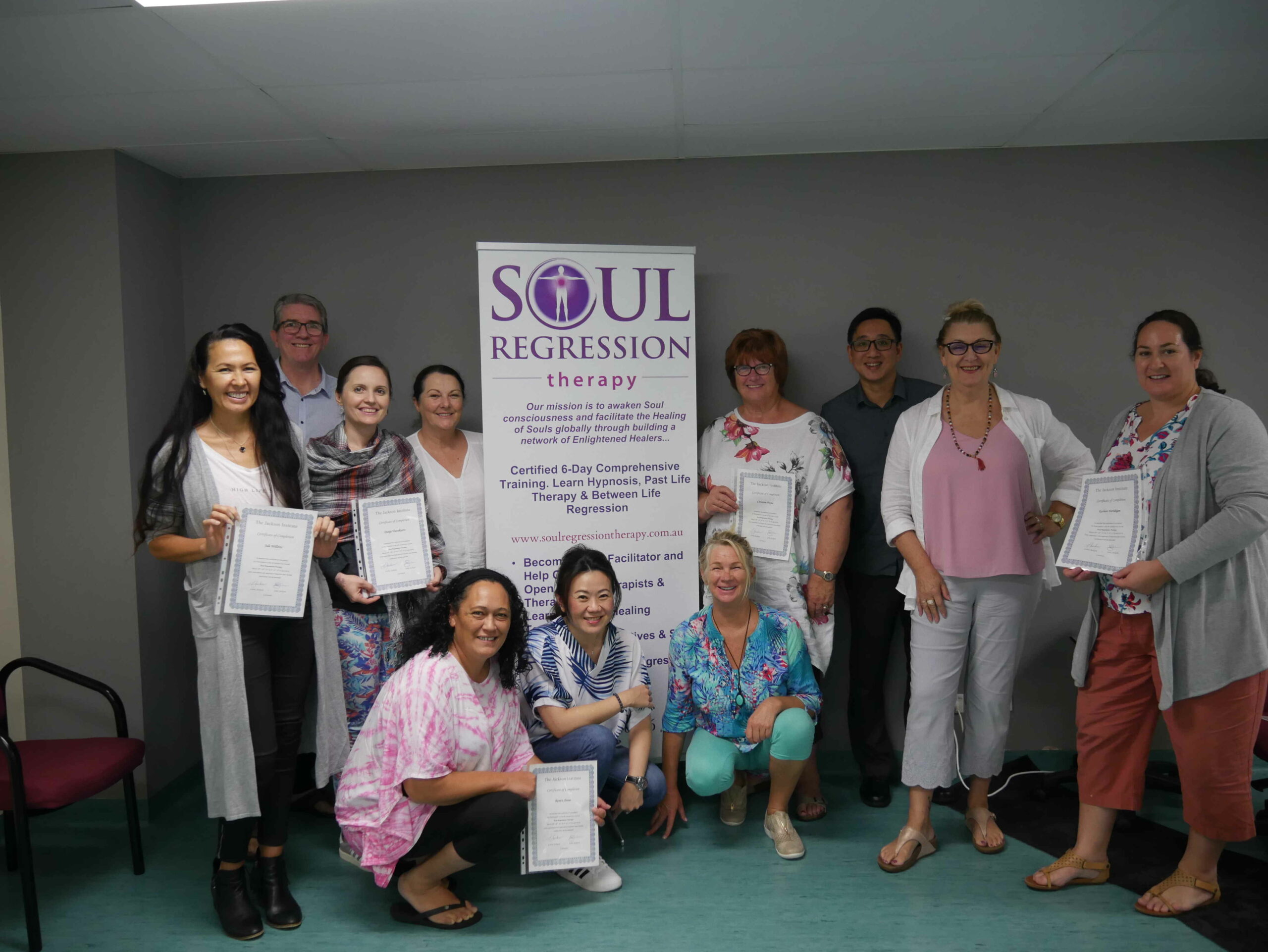 The Certificate of Soul Regression Therapy is a Combination of Past Life Regression and Between Lives Regression.
This course is open to anyone wanting to learn Soul Regression Therapy, not only practising hypnotherapists and healers but to responsible people who are drawn to spiritual regression work, healing or a desire to help people. There is not very many online training courses offering this mix of  transpersonal hypnotherapy.
John and Lorna are proud to make their Soul Regression Therapy facilitators course available for online study. This is a great opportunity to train in Past Life Regression and Between Lives Regression Therapy.
There is a huge shift towards energy work and spiritually based therapy. Many people are ready to release karmic patterns and complexes, and many mainstream therapies are proving less than effective with this. Believe us, we know, as many varied therapists have trained with us. 

Awakening Consciousness and Facilitating the Healing of Souls Globally, Training & Building a Network of Enlightened Healers
to be of service to humanity.
Learn Spiritual Regression

at your own pace with full Video Lectures and Demonstrations
This course includes full video lectures and demonstrations, from which you will learn the techniques to be able to practice your own experientials with friends or family before moving on to working with paying clients. We provide you with all the support manuals and scripting needed.
Graduates of this course are fully equipped and confident to establish themselves as Soul Regression Therapists and set up in practice if they chose to do so. Depending on where you are located in the world you will have good earning potential as there are a lot of people seeking professional help for this type of healing therapy.
Learn How to Hypnotise

clients into the deep hypnotic state necessary to reach the higher realms
One thing this course places an emphasis on is in teaching you how to hypnotise a person properly. Combine this with the unique Soul Regression Therapy Techniques and you have a great therapy to offer to others.
During this online training you will learn closely guarded hypnotic methods, regression techniques and insiders information that could take you years to learn. Much of the content is not available in any other training. In fact, some of the so called best courses just teach their students basic relaxotherapy technics. This course teaches you how to provide deep and prolonged hypnosis (up to 4 hours). Providing this deep hypnotic trance enables a client to access the deep levels of their subconscious mind. By doing this the client may gain an understanding into who they were in a past life and also to the core-essence of problems that have perhaps travelled with them across many lifetimes.
Developed

for Accelerated Learning, Maximum Knowledge
John & Lorna have developed and refined their Soul Regression Therapy training course to pass the maximum amount of their knowledge on to their students. Soul Regression Therapy consists of two separate sessions, one (1) past life regression and one (1) between lives regression The process involves guiding an individual into the somnambulistic state of trance through a unique hypnotic process and visualization method that Lorna and John have developed.
Students of this course will benefit from the combined experience of two professional and highly experienced Spiritual Regression Hypnotherapists, who have hundreds of hours of education and spiritual training behind them. Their vast knowledge on this subject will help guide you in the SRT process.
Certificate:
Upon the completion of your training you will be able to download and print your own color Certificate of Soul Regression Therapy.
Group Zoom Mentoring
Once a month John and Lorna run live group mentoring via Zoom meetup sessions for The Certificate of Past Life Regression and Certificate of Soul Regression Therapy students. 
We also have a private student community group on Facebook to ask questions in between mentoring sessions.
Topics covered

in the online Certificate of Soul Regression Therapy
• History of Regression therapy
• How to conduct a client interview
• How to use "theta-wave" technology to ease your clients into hypnosis
• Womb regression
• Understand different methods of regression
• How to handle spontaneous catharsis
• Practice safe and successful past life regression therapy
• How to access multiple past lives in one session
• How to release karmic complexes from the current life and past lives
• Releasing and healing subconscious blocks, negative habits, phobias, recurring cycles, fears and pain
• How to find the source of present day problems from past lives
• Knowledge of basic psychopathology and contra-indicators for regression therapy
• How to bring forward creative abilities from past lives to enrich the present life
• Discovering soul agreements
• How to deal with important metaphysical situations that can arise which could include how to talk to negative entity attachments and release them safely
• How to Connect the client to their "Higher Self or Over Soul"
• How to guide the client to the afterlife or between lives realm to meet with guides, Elders and learn about their soul history
• Soul-Mate/friend connections
• Spirit counseling and communication that includes contact with souls from past lives, spirit guides, deceased loved ones
• Discover your clients Immortal Souls Purpose and how it affects life choices
• How to connect with Master Spirit Guides
• How to remove blocks from the energy field
• Also you will watch demonstrations
This Course is taught to the highest standards of Hypnosis and Spiritual Hypnotherapy.We teach you REAL hypnosis and powerful induction and deepening techniques that will put most people in hypnosis, even the most difficult subjects can achieve deep somnambulistic levels of relaxation.
Begin Your Journey as a Soul Regression Therapist
Above price in USD please use currency converter above to get the approximate conversion rate to your currency. This is an indication only and may differ from your banks final charge.
Thank you to both Lorna and John for sharing your knowledge and vast experience in the past life regression course. I would recommend the course to anyone wanting to pursue this type of training as the level of content was all inclusive and I found your generous sharing of your experience valuable. They say if you want to learn from someone, learn from people who know what they are talking about, and you certainly fulfill that criterea! Best of luck in your future endeavours, Catherine.
The course was a thoroughly enjoyable experience! Lorna and John are both VERY approachable, most gracious with sharing all their valuable experience and have a wonderful teaching manner, imparting an amazing amount of knowledge, equipping us well for our future work. Thank you Lorna and John!
The course was fantastic, a well informed and presented format, with easy to follow manuals. I feel I could go and do a successful session with the public after a few practice sessions. I feel confident already to do this. I have never left a course feeling this confident and ready to start my new career. Thank you Lorna and John for your patience and though teaching. I understand the process involved really well.